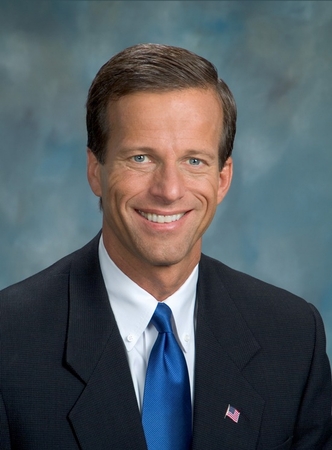 Senator John Thune, one of Biola's most notable alumni, acts as a role model for Biola students today, not only by measure of his political successes but more so by the integrity of his character. After graduating in 1983, Thune has served in the public service sector for more than 20 years.
Thune grew up in Murdo, S.D., which boasted a population of less than one thousand. When it came time to apply for college, Thune followed in the footsteps of his older siblings, each of whom already hailed Biola as their alma mater. Senator Thune's brother, Rich Thune, was 12 years old and the youngest in the Thune household at the time of John Thune's birth. He recalls the surprise of the new baby, and the worry of having another mouth to feed.
"I remember my mother saying one morning at breakfast, 'Well, we don't understand what God is doing here, but He makes no mistakes,'" said Rich Thune. "Maybe this baby will grow up to be president of the United States."
Although Senator Thune has yet to make it to the presidency, he has had an impressive political career. He completed three terms as South Dakota's sole member in the U.S. House of Representatives and was elected to the U.S. Senate in 2004. Within the Senate, he serves on the Armed Services Committee, the Agriculture, Nutrition and Forestry Committee, the Small Business and Entrepreneurship Committee, and the Commerce, Science and Transportation committee. Thune also currently holds the position of Chief Deputy Minority Whip.
Thune's friendship with Jim Abdnor was the primary influence on his decision to enter politics, according to David Peters, professor of political science at Biola.
Abdnor, South Dakota's state representative at the time, happened to be at one of John's basketball games his freshman year in high school. Rich Thune said John shot five out of six free throws at that particular game. The next day, Abdnor saw John at one of the stores on Main Street in Murdo and said that he noticed he had missed one shot yesterday. That meeting sparked a conversation about basketball, according to Rich Thune, and apparently, Abdnor had played basketball against Thune's father in high school.
Peters, who taught all the Thune kids, including John, during their years at Biola, perceived John as a diligent, quiet, kind and likeable student. It was Thune who had approached Peters for counsel regarding his studies.
"He was seriously considering the public administration major and that's when I spent the most time with him," Peters said. "It was a very young, small major so he decided to go for business."
When Peters encouraged Thune to attend the American Studies Program in Washington, D.C., John said he wouldn't need to because of his friendship with Abdnor, who by this time had been elected to the U.S. Senate. According to Rich Thune, John started working for Abdnor as early as 1984. Two years later, Thune was appointed by Ronald Reagan, during the time of his presidency, to serve under the Small Business Administration.
In addition to playing college basketball and meeting his wife Kimberly at Biola, Thune acquired a deeper conviction in Biblical principles, which became the basis for his political ideals.
"I valued the biblical foundation I got at Biola. I was able to take classes that strengthened my faith and helped me to better understand what I believe and how to, in a practical way, apply my faith in real-world situations," Thune said.
"He learned from Biola the importance of integrating your faith with whatever vocation or whatever calling God has placed upon your life," Rich Thune said.
Furthermore, Thune upholds his beliefs in the way he relates to others within the political environment. "He has a gracious way of acting and relating to all of his colleagues in the Senate," Rich Thune said. Senator Thune will be sharing some of his reflections at the Biola University Centennial Legacy Gala this Saturday, Feb. 23.