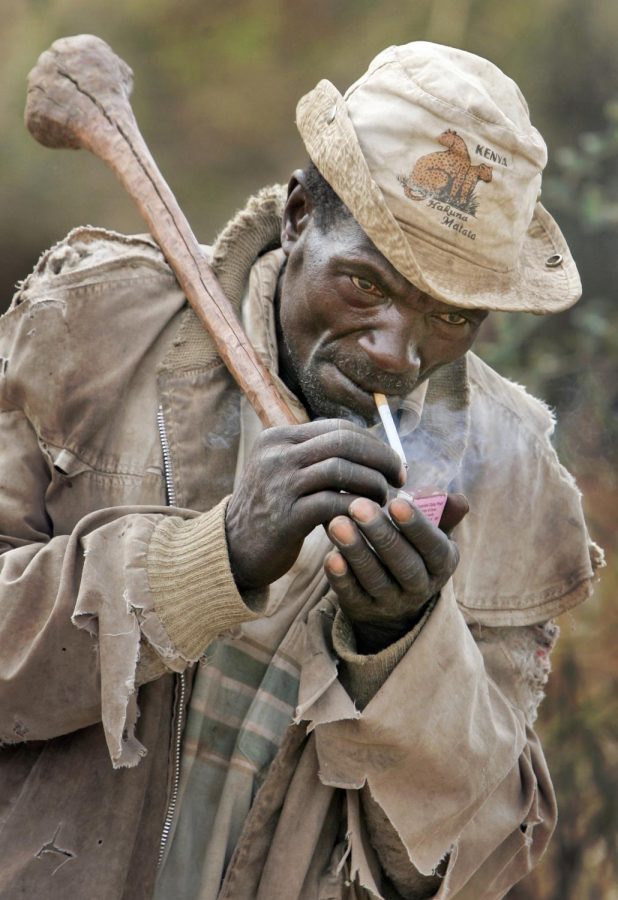 Photo by AP Photo/Ben Curtis
NAIVASHA, Kenya –Hundreds of people from rival tribes confronted each other on a main road of Kenya's flower capital Monday, hefting machetes, clubs and rocks and retreating only when a handful of police between them fired live bullets into the air.
It was unclear whether the officers would be able to keep them apart.
Ethnic clashes are continuing to convulse western Kenya, as gangs fought with crude weapons and set homes ablaze in this tourist gateway, pushing the death toll from a month of violence over the country's flawed presidential election to nearly 800.
The bloodshed –with Sunday marking exactly one month since the Dec. 27 vote– has transformed this once-stable African country, pitting longtime neighbors against each other and turning towns where tourists used to gather for luxury holidays into no-go zones.
It also complicated the task of former U.N. Secretary-General Kofi Annan, the latest international mediator trying to bring together President Mwai Kibaki and his chief rival.
While ethnic clashes have accompanied past Kenyan elections, the scale of the violence this year has been far worse. It has mainly pitted other ethnic groups, which support the opposition because they feel marginalized, against Kibaki's Kikuyu people.
"We have moved out to revenge the deaths of our brothers and sisters who have been killed, and nothing will stop us," said Anthony Mwangi, hefting a club in Naivasha on Sunday. "For every one Kikuyu killed, we shall avenge their killing with three."
Kikuyus were the main victims in the initial eruption of violence, with hundreds killed and more than half of those driven from their homes belonging to Kibaki's tribe. Now, however, it appears the Kikuyus are looking for revenge.
Some 55 bodies were counted Sunday at the morgue in Nakuru, the provincial capital of Kenya's fertile Rift Valley, where ethnic clashes erupted late Thursday, said a morgue attendant who asked that his name not be used because he was not authorized to speak to the media.
Bodies were still arriving Sunday, although the running battles had largely cooled off. A local newspaper reporter saw another five bodies Sunday in two slums on the outskirts of Nakuru.
The fighting spread Sunday to Naivasha, 90 kilometers (55 miles) northwest of Nairobi, a previously quiet tourist town with a stunning freshwater lake.
At least 22 people were killed in the town over the weekend, said district commissioner Katee Mwanza. At least five of them were burned to death in their homes, said Willy Lugusa, a police official. Others were hacked to death with machetes, a local reporter told The Associated Press.
The latest deaths bring the toll to nearly 800 killed in ethnic violence and clashes with police since Kibaki was sworn in for a second five-year term. About 255,000 people have been forced from their homes. International and local observers say the vote tally was rigged.
In Naivasha, Kikuyus set ablaze the homes of Luo rivals in the center of the town. Police, apparently overwhelmed, did not intervene. Gunshots rang out into the evening.
Monday morning, the two sides, numbering up to 1,000, faced off around the entrance to the Lake Naivasha Country Club, armed with clubs, machetes and rocks. When they advanced, a few police officers holding a line between them fired live bullets into the air. They retreated, then regrouped.
On Sunday, looters used iron bars to smash the windows of shops belonging to non-Kikuyu businesspeople, and made off with television sets, groceries and clothing.
One woman came screaming down the road from a blazing house. "They set it on fire, they are killing my brother and sister," Alice Okoth said.
Mike Aringo, a 27-year-old resident, said hundreds of men swarmed the area Sunday morning.
"They told us if you are a Luo you will be killed today," Aringo said. The opposition leader, Raila Odinga, is a Luo.
A reporter counted the bodies of seven victims hacked to death or burned alive in their homes. On Saturday, a Luo couple were slashed to death with machetes in Naivasha.
Soldiers and police reinforcements arrived late Sunday afternoon, firing tear gas and live bullets. Downtown Naivasha quickly became a ghost town, but on the outskirts, gangs of youths armed with machetes and clubs engaged in running battles with police who chased them down alleyways.
Tourist police escorted a convoy of nine vehicles of tourists trapped outside Naivasha through the town and on to Nairobi, the capital.
Kibaki and Odinga, meanwhile, remain far apart on how to resolve the crisis, the worst the country has suffered since it gained independence from Britain in 1963.
Kibaki has said he is open to direct talks with Odinga, but that his position as president is not negotiable. Odinga says Kibaki must step down and new elections are the only way forward.
Odinga met with Annan on Sunday and opposition spokesman Salim Lone said they were asked to name three negotiators for the talks, which he said he would hopefully start "within a week."
Lone said they expected Annan to deliver four documents Sunday night, three outlining terms of reference and rules of engagement and the fourth an agenda for the talks. All were drawn up with input from both sides as well as from civil groups. Both sides might want changes to the documents, he said, but "at least now they are moving toward something concrete."
But even Kenyans are doubtful that mediation can save them.
A poll by Nation Media, the country's biggest newspaper group, had only 51.6 percent of 2,000 respondents believing Annan can resolve the crisis.