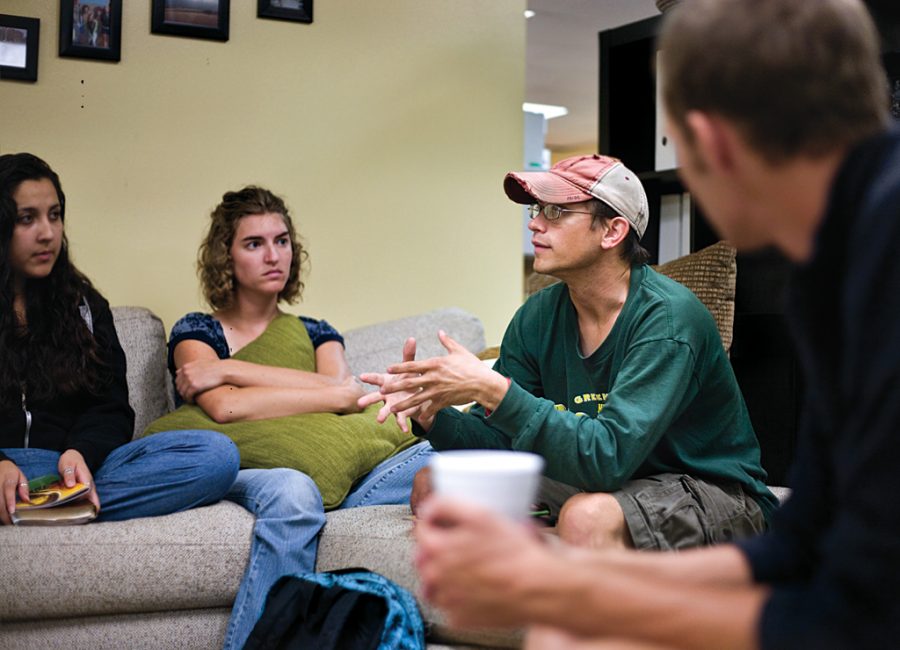 Mike Villa
Exploring the heart of God and what a follower of Christ looks like is the main focus of the Student Missionary Union's new Xplore small group Bible study.
This year, in a joint effort with the SMU Advancement chapels, SMU is launching a new way of gathering students in a communal setting to engage in God's Word, world and works.
Led by SMU's student prayer directors, juniors Jordan McGrath and Samantha Chisam, the intimate group of 13 gathered in the SMU office on Tuesday night to begin the first of the six-lesson series.
McGrath opened up the study with the vision and purpose of the Xplore Bible study.
"We want to create a family environment, and walk in exploring Jesus together," said McGrath. "Our desire is to discover what God is trying to say to us, and what our lives are supposed to look like as followers of him."
Group starting small and focusing on fellowship
Although the desire is to eventually expand into multiple small groups, both McGrath and Chisam are focused on cultivating fellowship and intimacy within this one.
"The format we are going off of is a very communal and self-led type of small group," said Chisam. "Our focus is to walk together through this study in discovering God's heart for the mission's field."
The intent is to understand how this applies to every Christian according to the unique ways God has fashioned them.
Chisam demonstrated this by engaging the group in an exercise. Everyone participated by drawing a diagram of where they thought they were in fulfilling God's will and living out their calling.
Study is a place for accountability and prayer
Although the group encourages transparency amongst one another, self-reflection is also understood by the group to be a part of spiritual growth.
"I decided to come to the small group because I desired the accountability I knew the group would foster," said junior Natalie Anna. "Even here at Biola, I was in need of a small Bible study group that would hold me accountable and hold me up in prayer."
Anna, who will lead a mission trip to India this interterm, expressed the need for more small groups on campus to help nurture prayer and accountability partners.
One of the goals of the small group is to bring awareness to the student body.
Xplore open to anyone
"You do not have to be called to the mission field to be a part of this study," said Chisam. "Anyone with a heart to learn more about God's love for this world is welcomed to come. Everyone is welcome."
To make it more convenient for students, small groups meet every other Tuesday at 9 p.m., alternating with the SMU Advancement chapels, which also start at 9 p.m. every other Tuesday.
Materials are provided by SMU. All students need to bring is an open heart.